The I Factor™
Simple Insights for Connecting in Your Personal Relationships
"Simple yet powerful insights on how to connect – and what it means to connect – in today's disconnected world. A must read!" Larry King Former host of Larry King Live on CNN
Download free Excerpt.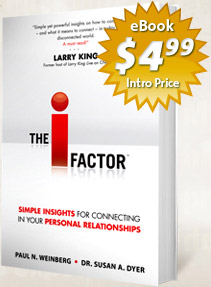 Win an iPad 3!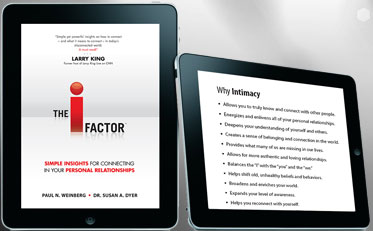 Contest ends Sept 30, 2012.
Winner notified via email.
No purchase necessary.
What is The I Factor
Why is it that in today's 24/7 connected world of Facebook, email and text messaging, many of us feel even more isolated and disconnected than ever before? The answer is that most of us have never learned – or seem to have forgotten – how to connect on a fundamental level in our personal relationships. Read more ››
Celebrity Endorsements
Genius in its simplicity, this book captures the very essence of what we all want and aspire to in our close personal relationships.
Reader Reviews
I received The I Factor yesterday and I am already halfway through it. It is an amazing and unique journey into one's self and it opened me up to new ideas before I was 20 pages in. Thank you so much for making...