The I Factor™
Simple Insights for Connecting in Your Personal Relationships
"An inspiring read for every 'modern' man and woman on how to create more successful relationships. Picked it up and couldn't put it down."Sofia Vergara Star of Modern Family
Download free Excerpt.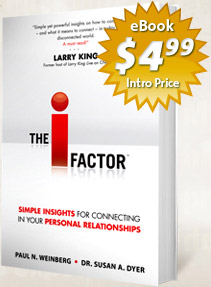 What is The I Factor
Why is it that in today's 24/7 connected world of Facebook, email and text messaging, many of us feel even more isolated and disconnected than ever before? The answer is that most of us have never learned – or seem to have forgotten – how to connect on a fundamental level in our personal relationships. Read more ››
Celebrity Endorsements
Terrific read that conveys powerful insights. I look forward to incorporating it into my life.
Media Buzz
Reader Reviews
Everybody has hopes and challenges when it comes to relationships and intimacy. This book is a great guide for everyone and anyone...